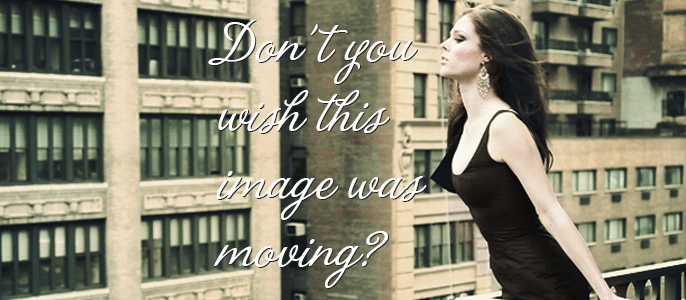 Animated GIFs get a Makeover
25 years after it saw the light of the day, the animated GIF is re-branding itself as the Cinemagraph – one of the dark horse marketing trends of 2013! From being on everyone and your uncle's website in the 90's, to being publicly despised in the 00's, to feeling like the freshest thing once again?


Hold it with the sceptisism one second, and let me continue.
Marketing with Cinemagraphs
When it comes to marketing with animated GIFs, we're not talking memes like Grumpy Cat or Game of Thrones Red Wedding Reactions GIFs. Ain't nobody got time for that. The new GIFs are subtle and beautiful , creating an atmosphere to enhance the feeling of the image. Let's give big welcoming hand to Cinemagraphs:
"Cinemagraphs are still photographs in which a minor and repeated movement occurs. Cinemagraphs, which are usually published in an animated GIF format, can give the illusion that the viewer is watching a video."
By using only a small movement, there is no need to worry about being bombarded with effects like in the old days. You will only get a hint of a movie, that still intrigues the eye.
Photography and Cinema
Mashable writes:
"The trend — and the term — was coined by visual graphics artist Kevin Burg and his partner, photographer Jamie Beck. The GIF files, which maintain elements of photography and cinema (hence the name), gained prominence, thanks to Beck's wildly popular Tumblr blog, From Me To You."
Here are some examples on typical cinemagraphs (best viewed in Safari or Chrome):


As you can see, there's a big difference in the limited movement in a cinemagraph, compared to a regular animated GIF. The image quality is usually much better, and there's more of an artistic feel to them.
Still Under Development
So animated GIFs could start doing really well as a marketing tool? In Creative Bloq, Lee Crutchley puts it like this:
"It's a well known fact that everyone loves animated GIFs these days, and more brands are beginning to notice that. More and more campaigns are springing up using animated GIFs, and almost all so far have been terrible."
It's clear that this is a trend that's hugely under development. But we've seen examples of how to take excellent advantage of the media, for example when New York Fashion Week was captured with cinemagraphs.
The upswing for the animated GIF also springs from a love of nostalgia. The kids that grew up splashing tons of running hamsters and spinning pixelated globes on their yahoo sites are the ones beginning to run the Internet nowadays. The 90's are hotter than ever (almost hotter than in the 90's!) in fashion, music and now even graphic design (with acid visuals on a rise).

Lack of Support
Now, the only thing standing between the animated gifs and rehabilitation is the lack of support on all fronts. Raven Tools reports:
"While Facebook and Pinterest allow users to pin or post cinemagraphs, their signature movement is stilled. However, Google seems to be embracing the GIF file. In addition to its new filter in Image search, Google's social network Google+ accepts animated images and even made a cinemagraph the default image for G+ event invitations. And the newly enlarged G+ cover photos for both profiles and pages provides a large and inviting canvas."

Hey, if Google's onboard – let's give it a try!
Here's a cinemagraph from Basquer's office window quickly made with Kinotopic (because of course there are shortcuts to use instead of, although not as good as, the advanced Photoshop method):